Blackmagic Design Teranex Mini – SDI to Audio 12G
$545.00
Description
Teranex Mini – SDI to Audio 12G
De-embed audio from any SD, HD or Ultra HD SDI video connection and output 2 channels of analog audio to balanced XLR, optical or HiFi RCA, or output up to 4 channels of AES/EBU digital audio. Perfect for converting and outputting SDI audio to a massive range of audio equipment such as audio mixers, iPods, analog broadcast decks, audio monitors and more.
Connections
SDI Video Input
1 x 12G-SDI SD/HD/2K/4K auto switching.
SDI Video Output
1 x 12G-SDI loop output.
AES/EBU Audio Output
4 channels professional 110Ω balanced digital audio via XLR connectors. Right XLR can be configured for timecode output.
Analog Audio Output
2 channels professional balanced analog audio via XLR connectors, or 2 channel unbalanced analog line level via RCA connectors. Right XLR can be configured for timecode output.
Optical Audio Output
S/PDIF Signal with TOSLINK Connector.
Multi Rate Support
Automatic switching between SD/HD/2K and 4K.
Updates and Configuration
USB or Ethernet.
Re-Clocking
Yes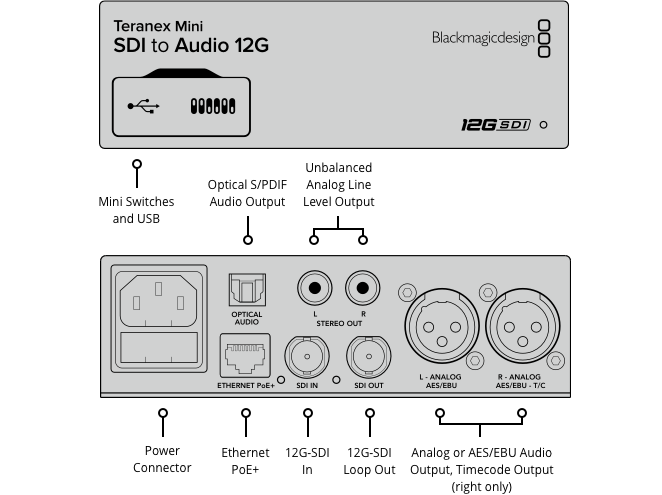 Standards
SD Format Support
525/29.97 NTSC, 525/23.98 NTSC, 625/25 PAL
HD Format Support
1280 x 720p50, 1280 x 720p59.94, 1280 x 720p60, 1920 x 1080i50, 1920 x 1080i59.94, 1920 x 1080i60, 1920 x 1080PsF23.98, 1920 x 1080PsF24, 1920 x 1080p23.98, 1920 x 1080p24, 1920 x 1080p25, 1920 x 1080p29.97, 1920 x 1080p30, 1920 x 1080p50, 1920 x 1080p59.94, 1920 x 1080p60.
2K Format Support
2048 x 1080p23.98, 2048 x 1080p24, 2048 x 1080p25, 2048 x 1080PsF23.98, 2048 x 1080PsF24, 2048 x 1080PsF25.
4K Format Support
3840 x 2160p23.98, 3840 x 2160p24,3840 x 2160p25, 3840 x 2160p29.97,3840 x 2160p30, 3840 x 2160p50,3840 x 2160p59.94, 3840 x 2160p60,4096 x 2160p23.98, 4096 x 2160p24,4096 x 2160p25, 4096 x 2160p29.97,4096 x 2160p30, 4096 x 2160p50,4096 x 2160p59.94, 4096 x 2160p60
SDI Compliance
SMPTE 292M, SMPTE 259M, SMPTE 296M, SMPTE 372M, SMPTE424M-B, SMPTE 425M, ITU-R BT.656, ITU-R BT.601, SMPTE ST-2036
SDI Video Rates
SDI video connections are auto switching between standard definition SDI, high definition level B 3G-SDI, 6G-SDI, and 12G-SDI.
SDI Auto Switching
Automatically selects between SD, HD, 3G, 6G and 12G-SDI.
SDI Video Sampling
4:2:2, 4:4:4
SDI Audio Sampling
Television standard sample rate of 48kHz and 24-bit.
SDI Color Precision
YUV 4:2:2 and RGB 4:4:4 in HD, 2K and 4K.
SDI Color Space
REC 601, REC 709
Software
Software Control
Mac OS X™ and Windows™ software upgrade via USB and Ethernet.
Internal Software Upgrade
Via included updater application.
Settings Control
Basic Settings Control
Mini Switches, USB and Ethernet via free software utility
Optional Front Panel Control
Front mounted Smart Panel with LCD, rotary knob and six settings buttons
Power Requirements
Power Supply
1 x built-in international AC power supply with IEC C14 inlet. IEC Power cable required. 90 – 240V AC Input.
Power Over Ethernet
Can be powered via 48V DC using PoE (power over ethernet).
Power Consumption
15 Watts
Operational Voltage Range
90 – 240V AC
Physical Specifications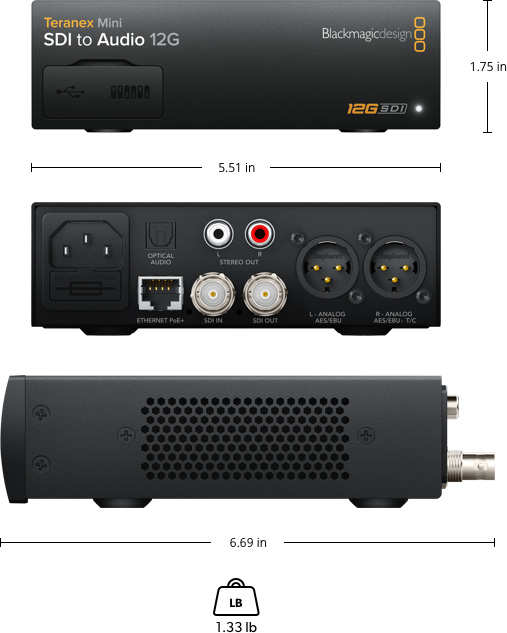 Environmental Specifications
Operating Temperature
0° to 40° C (32° to 104° F)
Storage Temperature
-20°to 60°C (-4° to 140°F)
Relative Humidity
0% to 90% non-condensing
What's Included
Teranex Mini – SDI to Audio 12G
Software SD Card
Warranty
3 year Limited Manufacturer's Warranty.